Scratchcards
HTML, JavaScript, jQuery Animation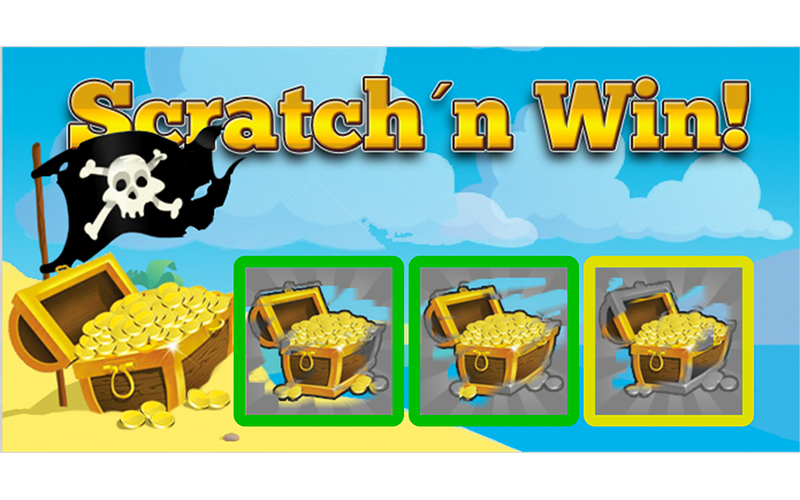 Summary
Visitors increasingly want to engage with our sites and brands. This scratch card game gives the perfect way for your visitors to do that with little effort or cost to you or your company. On top of that it increases customer loyalty, returning to the site to continue to play! We've seen a huge variety of companies use this to great success. Imagination really is the only limit!
Have your own HTML Scratchcard Game on your site, to increase visitor engagement and fun. In a recent survey, 80% of users said the well finished game contributed "moderately or significantly" to the fun of the site.
With this package, you get a license to use this scratchcards game on all your sites. You can mix it up and customize your scratchcards with the 4 different pre-set designs provided, or you can very easily make your own.
The scratchcards script is written in pure HTML5, Javascript, jQuery and CSS, making it extremely easy to integrate into your existing or new site, and working flawlessly on mobile devices. There is no use of Flash or Java.
Highlights
Completely responsive to every resolution and device. Works on every browser.
100% HTML and Javascript code. Does not use Java or Flash, ensuring compatibility with all mobile devices.
Fun scratching action, simulating an actual coin scratch.
Extremely flexible prizes and behaviour configuration. You can have scratchcards that give out multiple prizes, only one prize, "find 3 of a kind", "scratch all cells", "pick which cells to scratch", and more.
Cheat-prevention measures to avoid getting fraudulent complaints from your customers.
Get these scratchcards for your site!
These scratchards come packaged up into a simple to implement product that you can purchase for your own site:
Back to Gaming Portfolio